Emissions of Daily Activities

Cooking a roast dinner is the same as driving 123 miles
Did you know that you're producing emissions without even realising? According to data, a British citizen releases more carbon dioxide in a fortnight than some people do in some African countries across an entire year – and a lot of the causes are things that wouldn't even cross our minds.
Although 100 companies are responsible for 71% of global emissions, it is important to understand how our actions affect the environment, particularly in high-carbon lifestyles. While we may do things like limit our mileage and purchase an electric car, there are everyday activities that can produce the same amount of carbon dioxide as a long-haul road trip every single day.
GoodBye Car researched the carbon footprint of everyday activities to find out just exactly how much CO2 everyday activities release and what the equivalent would be in driving miles.
A roast dinner produces more CO2 than commuting to and from work

It turns out that one of the nation's favourite meals is the most unfriendly to the environment. The staple roast dinner produces just over 28,000g of carbon dioxide while cooking beef, potatoes, broccoli, carrots, and eggs, flour, and milk for the Yorkshire puddings. On average, driving one mile releases 228g of CO2 which makes cooking a roast dinner every Sunday the equivalent of driving 123 miles once a week!
Another UK dish, the English breakfast, has topped the table, producing on average a total of 5,747g of CO2 for bacon, sausages, bread, beans, potatoes, mushrooms, eggs and tomatoes – this would be the same as driving 26 miles. Switching to a vegetarian sausage could reduce this meal's carbon footprint by 51%.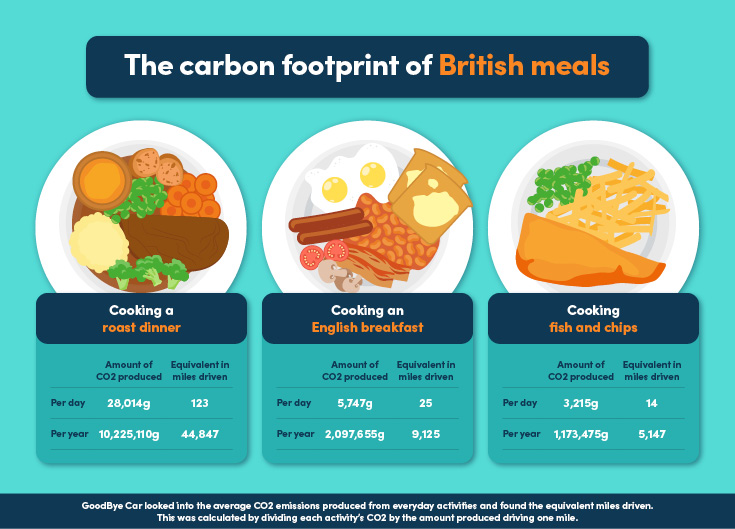 Individual internet activity has some of the lowest CO2 emissions

Making a card payment has the lowest carbon footprint at 4g of CO2 per payment which is the same as travelling one mile. However, there were 1.9 billion debit card transactions made in the UK in October 2021 alone. This created around 76 billion grams of carbon emissions each month.
Other internet activities that are equivalent to driving for one mile each include:
● Sending a selfie
● Streaming Netflix for one hour
● Scrolling Instagram for half an hour
NFTs are terrible for the environment

Non-fungible tokens are a concept some of us are just managing to wrap our heads around. These individual pieces of digital art are collectively responsible for millions of tons of CO2. In fact, just one NFT transaction produces 48,000g, which is the same as driving 211 miles. You could drive from London to York with that mileage.
Over nine months in 2021, there were a total of 529, 390 NFT transactions in the art sector. This would produce around 25 billion grams of carbon dioxide. This is the same as travelling over 111,450,526 miles over nine months. That's the same as driving around the circumference of the earth 4,476 times.
Working an office job is the same as travelling 31 miles by car

It's time to call in sick because working your 9-5 office job is bad for the environment!
Commuting, a one-hour virtual meeting, powering your computer, sending 40 emails a day, and streaming music for 2.5 hours while working is the same as travelling 31 miles each day. Working five days a week is the same as driving 155 miles a week.
You might need to Google at least four things a day which may only release 0.2g per search, but there are 5.6 billion searches across the world each day, which produces 1,120,000,000g of CO2.
Making one tea or coffee produces 71g of CO2. If you're having around 4 or 5 cups a day, this is the same as 335g, or the same as driving 2 miles. Lattes are the worst for the environment, with one large latte generating 340g. If you have 2 of these every single day for a year, that's the same as driving 1,088 miles (or driving from London to Warsaw).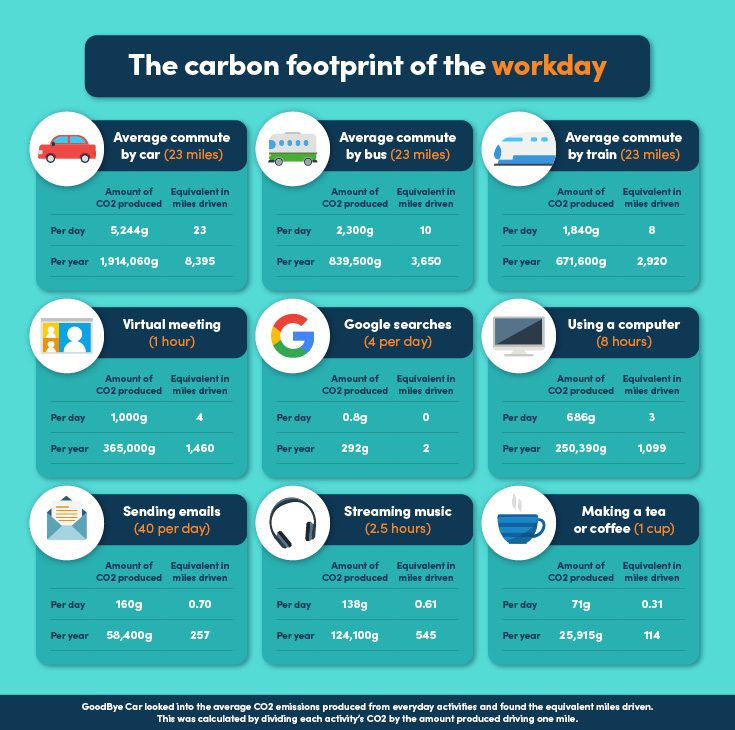 Being clean comes at a price

Domestic laundry, personal grooming, and taking care of your hygiene unfortunately all have consequences for the environment. In total, water use accounts for 6% of all carbon dioxide emissions in the UK. Having a generously filled bathtub powered by an electric boiler being the main culprit at 2,600g of carbon dioxide which is the same as driving 11 miles.
A 15 minute shower powered by an electric boiler produces 1,700g of carbon dioxide (driving around 7 miles), using a dishwasher at 65°C releases 990g (driving roughly 4 miles), and washing clothes at 30°C releases 600g (driving 3 miles).
Maintaining good hygiene is important, however doing things like keeping the kitchen tap running leads to roughly 157,000g of CO2 being released each year, which is the same as driving 689 miles (almost the same as driving from Birmingham to Berlin). You should also try to use cooler water where possible, for example in your showers and when washing your laundry.

Methodology
To create the data, we took several online data points and worked out our own calculations to figure out the equivalent in miles driven. Values were founded up from sources for a round overall number. We found out the average CO2 emissions of 1 mile driven was 228g.
All data was correct as of 16th February 2022.